PRIOREC TEAM
WELCOMES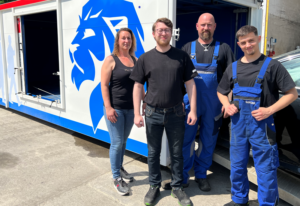 Four new team members are welcome: Sylvia Russwurm will be responsible for the new position customer management, Holger Löhnert is a ADR-Transport specialist and will be trained as an expert for airbag destruction and explosives. Both, Daniel Davanzo (Online parts shop) and Arton Krasniqi (disassembly worker), follow their fathers, which are employed at PRIOREC for many years . Thus, PRIOREC is a real family company.
CIRITICAL BATTERIES CARRIAGE SYSTEM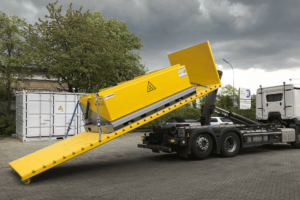 Storage and transport of critical batteries becomes much more important. PRIOREC has in use for these challenges the STÖBICH Technology special containers. Since May an additional roll-on / roll-off platform for the box is available to improve the pick-up and pick-off, in particular when loading batteries at customers. The system is now optimized for a transport by disposal companies with lots of roll-off trucks.
Electric vehicle fire and extinguishing test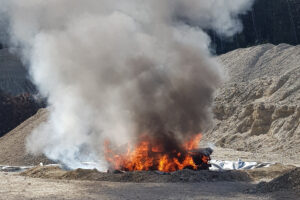 Fire tests are part of the most important scenarios when checking the suitability of extinguishing systems for electric cars. It is very important to PRIOREC whether the HV batteries are really completely burnt out or still to be disassembled. An appropriate test with a fully burnt-out car has just been finished – the vehicle was examined by the PRIOREC team, the HV battery remains disassembled, and the car body released for recycling.
Fire brigades practise at PRIOREC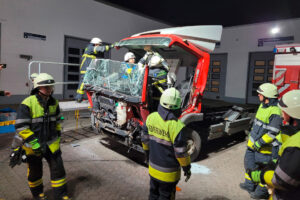 Unfortunately, fire brigades often have to rescue people from car accidents. Rescuing people trapped in cars has also been practised a lot up to now. Training to rescue lorries in accidents is relatively seldom done. So, two regional fire brigades did rescue training from lorry cabs on the PRIOREC site in March. PRIOREC provided the lorry: and of course, expertly disposed of its remains.
Liquid gas tanks – safe disposal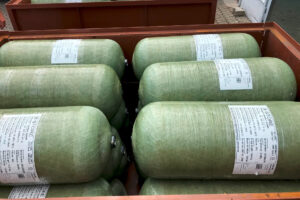 PRIOREC not only recycles electric vehicles and typical ICE vehicles but also cars with alternative fuels. Not long ago, natural gas tanks from vehicles were recycled. Safely recycling the remaining gas is just as guaranteed as disassembling and destroying all components to exclude sales of security relevant components in third markets.
PRIOREC sells more AIRBAG ignition containers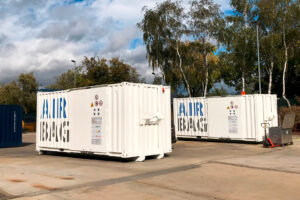 ELOGplan, a sister company of PRIOREC had previously provided the special containers for airbag destruction and PRIOREC will sell them in future. A further container for a customer will be sold in March which will be used for an OEM. PRIOREC will from April also take over the mobile airbag destruction business, which has been provided German-wide and in neighbouring countries since 2019 by ELOGplan.
PRIOREC
start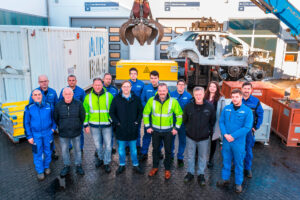 PRIOREC was founded at the beginning of February to bundle and develop all the BÜCHL Group operations in the vehicle, high voltage batteries, metals, and cable areas. PRIOREC is led by both executives Peter Meißner and Jürgen Kienlein. The existing employees will move to the new company.