PRIOREC-CEO in the Podcast Trends in battery recycling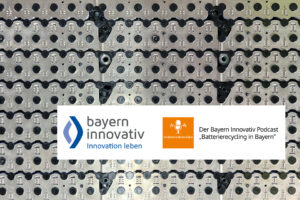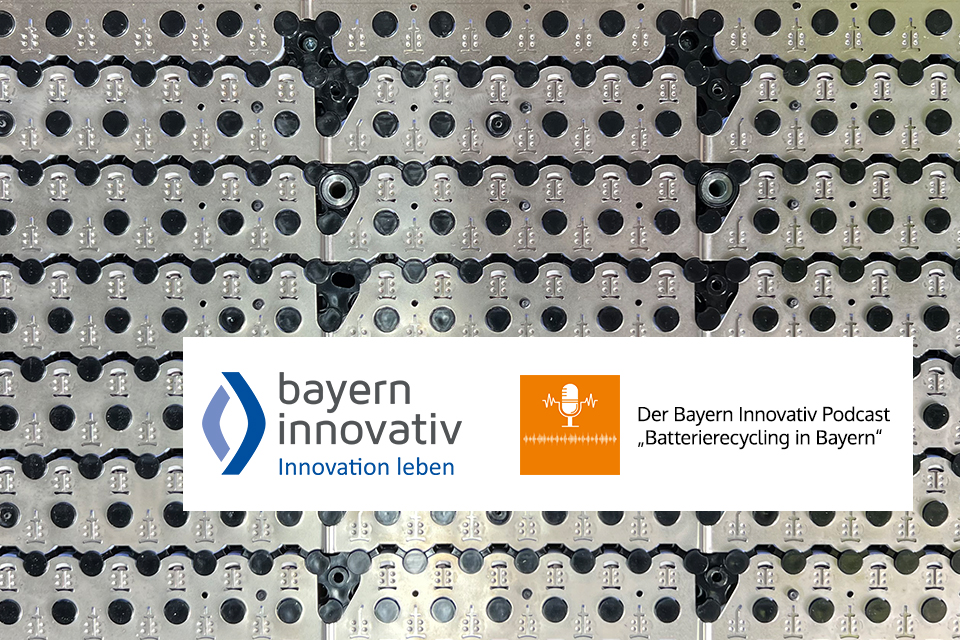 Bayern Innovativ takes up the topic of battery recycling for a podcast and recently had a conversation with PRIOREC´s CEO, Peter Meißner, who talks about the major challenges, offers insights into the disposal industry and advocates for a Bavarian network. Topics are the European battery passport, the high safety requirements for the disposal, the need for data for dismantling, e.g. To the podcast: https://bayern-innovativ.podigee.io/85-batterierecycling
Safe disposal also for Automated Guided Vehicles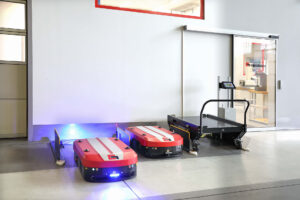 Automated guided vehicles (AGVs) are used in in-plant logistics, and increasingly use Li-Ion technology. PRIOREC has agreed a long-term contract with a leading manufacturer, GRENZEBACH Maschinenbau GmbH in Hamlar, which for the first time guarantees the nationwide take-back of AGVs, the safe dismantling of Li-ion batteries and 100% recycling. For GRENZEBACH, this is an extension of the service offering.
First series containers of the LION.COOL.BOX delivered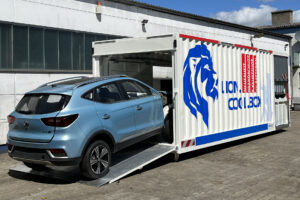 The LION.COOL.BOX, the patented storage and transport system for E-vehicles and HV batteries is available. The LCB are equipped with 5 tanks, so that stationary and mobile flooding is possible in case of fire. Internally closing gates and a water circuit ensure safety and reduced disposal costs. Available for rent in October, the system has an aerosol extinguishing system, sprinkler system and cloud-based temperature monitoring.
Safe disassembly for all LOTUS test vehicles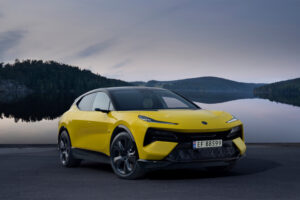 With LTIC, the Lotus Tech Innovation Centre in Raunheim, another customer is working with PRIOREC. LTIC develops state-of-the-art e-vehicles for the global premium brand Lotus. After extensive tests and test drives, the technology carriers have to be dismantled and disposed of very safely. PRIOREC meets the legal requirements for recycling the vehicles and HV batteries and guarantees prototype protection with the TISAX label.
FORTUM Battery Recycling Start of cooperation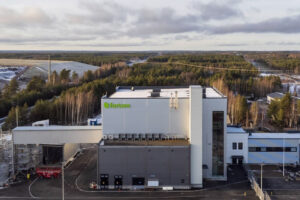 PRIOREC continues to expand the area of HV battery disposal according to plan, and in the future will also cooperate with the Finnish specialist FORTUM for the low-CO2 recycling of batteries and modules, which produces raw materials for new batteries using state-of-the-art technology from blackmass. PRIOREC will supply the German FORTUM sites and at the same time also act as an operational waste disposal company for FORTUM in the core region of Bavaria.
PRIOREC goes mobile with own logistics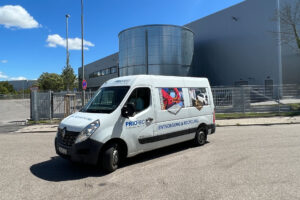 For fast and efficient collection of small quantities, PRIOREC starts in July with own vehicles in Sprinter class, equipped for ADR and with own ADR drivers. As part of the BÜCHL Group, PRIOREC continues to use the truck fleet of sister company BÜCHL Entsorgungswirtschaft (roll-off trucks and box trucks) for transports of HV batteries and vehicle parts, and is also expanding supraregional partnerships with special logistics companies.
Service Contract with MG extension to EU-Countries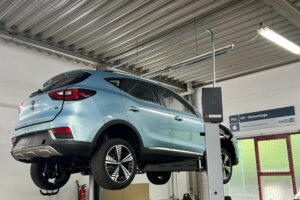 The collaboration between MG, as a brand of SAIC Motor, and PRIOREC, appointed at the end of last year, has been extended to other EU-countries. The service scope is to take-back, dismantle and recycle electric vehicles and high-voltage batteries. MG is one of the fastest growing new electric vehicles brands and wants to benefit from the complete services of PRIOREC, also by inclusion of network partners in Austria and Scandinavia.
End-Of-Life-Vehicles Take-Back-Partner BMW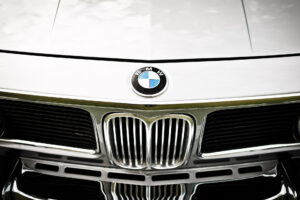 The contract between BMW and PRIOREC as a take-back partner for end-of-life-vehicles has been prolongated at den beginning of the year 2023. The contract runs for the next five years, and exists since more than 20 years, formerly hold by BÜCHL 1A Autoteile. PRIOREC is responsible for dismantling, draining and recycling of elv, as well as the evaluation of the recycling quota, and takes back old cars free of charge.
Prototype Safety at PRIOREC ENX-TISAX: Results available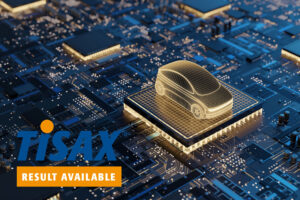 Since February 2023 the TISAX label is available at the ENX.com platform, and can be seen for all ENX participants. On request PRIOREC shares the results. By issuing the results PRIOREC has successfully finalized a two-year process of implementation and validation of TISAX. The TISAX label includes information security management system (ISMS) and prototype safety, requested both by customers for car recycling processes.
Disassembly Order for MOOVER Concept Car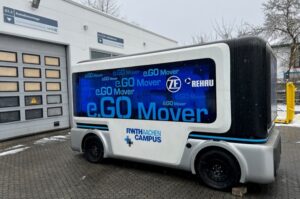 The electric powered MOOVER is a R&D project for new mobility systems, which was designed and built in the periphery of RWTH Aachen and e.GO. Based on a short-term enquiry of the producer CUBONIC for disposal, dismantling, and recycling of a higher amounts of prototypes and batteries PRIOREC provided a safe technical concept and fast logistics solution. To disassemble and recycle these cars the typical process for passenger cars had to adapted.
New customer GREAT WALL Safety and Service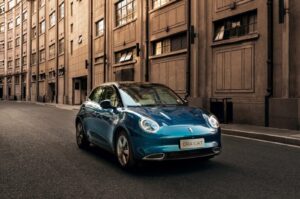 GREAT WALL lately became a new customer for PRIOREC, the contract includes the nationwide take-back of E-Vehicles and HV-Batteries. All services can be used by both brands, the ORA (compact cars) and WEY (SUV), which were currently launched. The collaboration is not only focusing on fulfilment of the German legal requirements (ELV, Batteries), and the disassembly, but also on additional services as EAR-registration, and 2nd use applications.
New Team Members and Team Manager High-Voltage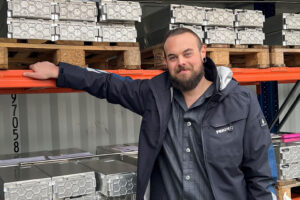 Following the PRIOREC strategy new employees entered the team in the last weeks, to strengthen the newest business unit High Voltage and to support the increasing customer enquiries. The new team leader High Voltage Mr. Sebastian Feghelm as a BÜCHL Group employee brings long year experience in the fields of waste management, recycling plants, and electrical engineering. In sum five employees are trained for working under high voltage.
E-Cars & HV-Batteries Complete Solution for OEM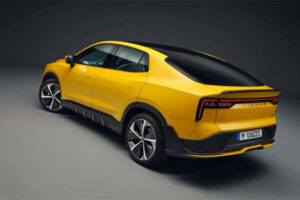 To fulfil the German legal requirements (ELV, Batteries) PRIOREC offers a complete solution to all producers for e-vehicles and high-voltage batteries. AIWAYS is one of the first OEM, PRIOREC guarantees the nationwide service for all pre-series cars, end-of-life vehicles and crashed cars as well as for all types of batteries. By dismantling all cars and batteries PRIOREC provides highest recycling quota and parts for second-life projects.
Conference Sustainability & Battery Recycling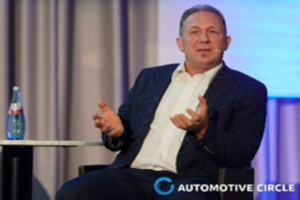 The battery recycling challenges was one of the topics in the international conference "Sustainability in Automotive Production", held by Automotive Circle on November 29th/30th. Together with experts from FORTUM (Recycling plants) and EDAG (Dismantling plants), also the CEO of PRIOREC as a high voltage battery disposal specialist discussed with the representatives of the car and supplier industry. Also sustainable: all referents planted a tree.
Reinhard Büchl is 75. – 75 years of innovation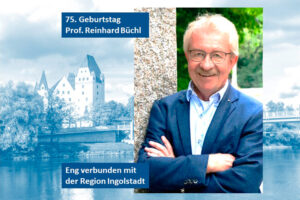 Prof. Reinhard Büchl celebrated his 75th birthday on 25.09. Reinhard Büchl has developed the family business into a successful Group with new ideas, innovative projects, and vision for more than 50 years – and always with a focus on sustainability and environmental protection. Reason enough to present the milestones of success – one of them is car recycling beginning in 1998, the first activity of PRIOREC.
Collaboration between AUTOCIRC AB and PRIOREC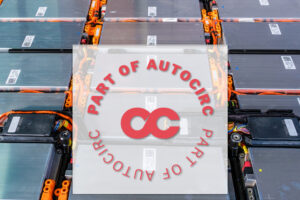 The Swedish AUTOCIRC Group AB und PRIOREC have agreed on a new strategic cooperation in the fields of car recycling and reusing of car parts. The aims are realizing joint projects and investments in Bavaria, building up a pilot recycling plant for electric cars, and using PRIOREC´s recycling know-how (e.g., pre-series cars, airbags, batteries, cable) for AUTOCIRC´s network. AUTOCIRC´s German office will be opened in Ingolstadt during the fall of 2022.
AIRBAG CONTAINER for TOYOTA, Brazil
The TOYOTA TSUCHO Group, a worldwide active service provider for TOYOTA, has bought a new Airbag Destruction Container by his Brazilian subsidiary TTSR. The handover of the container system took place together with the TTSR directors, plant managers and operational teams, after PRIOREC had trained the trainer for this new activity. TTSR is going to neutralize and recycle all airbag and pyrotechnical systems from TOYOTA in the Brazilian market.
Powerful cable-recycling plant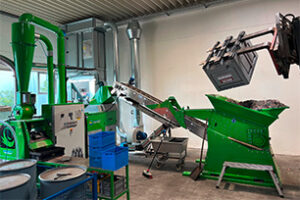 PRIOREC has installed a new and more powerful Guidetti cable-recycling plant in July. The increasing amounts of cooper cable and wires can be recycled with the new equipment, which has a capacity of 300 kg Copper per hour. The product is a pure granulated copper. The plant will be taken into PRIOREC´s operational business after testing in August. PRIOREC improve their competence in the metal department, as well as in the high voltage department.
PRIOREC TEAM
WELCOMES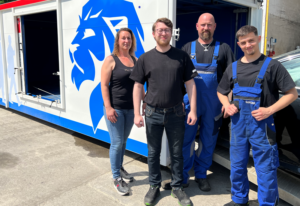 Four new team members are welcome: Sylvia Russwurm will be responsible for the new position customer management, Holger Löhnert is a ADR-Transport specialist and will be trained as an expert for airbag destruction and explosives. Both, Daniel Davanzo (Online parts shop) and Arton Krasniqi (disassembly worker), follow their fathers, which are employed at PRIOREC for many years . Thus, PRIOREC is a real family company.
CIRITICAL BATTERIES CARRIAGE SYSTEM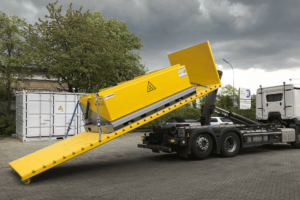 Storage and transport of critical batteries becomes much more important. PRIOREC has in use for these challenges the STÖBICH Technology special containers. Since May an additional roll-on / roll-off platform for the box is available to improve the pick-up and pick-off, in particular when loading batteries at customers. The system is now optimized for a transport by disposal companies with lots of roll-off trucks.
Electric vehicle fire and extinguishing test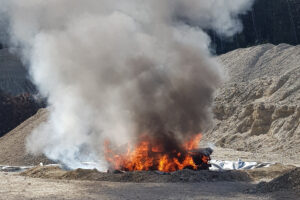 Fire tests are part of the most important scenarios when checking the suitability of extinguishing systems for electric cars. It is very important to PRIOREC whether the HV batteries are really completely burnt out or still to be disassembled. An appropriate test with a fully burnt-out car has just been finished – the vehicle was examined by the PRIOREC team, the HV battery remains disassembled, and the car body released for recycling.
Fire brigades practise at PRIOREC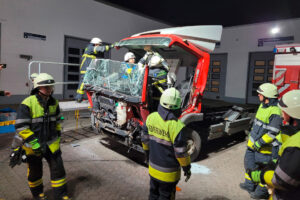 Unfortunately, fire brigades often have to rescue people from car accidents. Rescuing people trapped in cars has also been practised a lot up to now. Training to rescue lorries in accidents is relatively seldom done. So, two regional fire brigades did rescue training from lorry cabs on the PRIOREC site in March. PRIOREC provided the lorry: and of course, expertly disposed of its remains.
Liquid gas tanks – safe disposal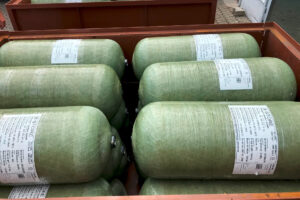 PRIOREC not only recycles electric vehicles and typical ICE vehicles but also cars with alternative fuels. Not long ago, natural gas tanks from vehicles were recycled. Safely recycling the remaining gas is just as guaranteed as disassembling and destroying all components to exclude sales of security relevant components in third markets.
PRIOREC sells more AIRBAG ignition containers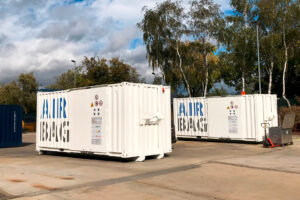 ELOGplan, a sister company of PRIOREC had previously provided the special containers for airbag destruction and PRIOREC will sell them in future. A further container for a customer will be sold in March which will be used for an OEM. PRIOREC will from April also take over the mobile airbag destruction business, which has been provided German-wide and in neighbouring countries since 2019 by ELOGplan.
PRIOREC
start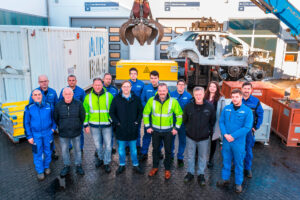 PRIOREC was founded at the beginning of February to bundle and develop all the BÜCHL Group operations in the vehicle, high voltage batteries, metals, and cable areas. PRIOREC is led by both executives Peter Meißner and Jürgen Kienlein. The existing employees will move to the new company.